OptiSigns has an extensive library of thousands of templates, covering various industries, along with a user-friendly Designer tool that enables you to create captivating promotions, events, marketing content, and menus within minutes!
Watch this 3min video to learn more:
In this article, we will review how to:
Access the Designer app (or tool)
Browse for templates in our Template library
Assign your design to a screen or to a playlist
How to add design elements, apps, QR codes, or widgets to your design
How to create your own templates to share with your team
Let's jump in and get started:
Access the Designer app (or tool)
You can access our Designer app in 2 ways:
Go to Apps -> click or search for 'Designer'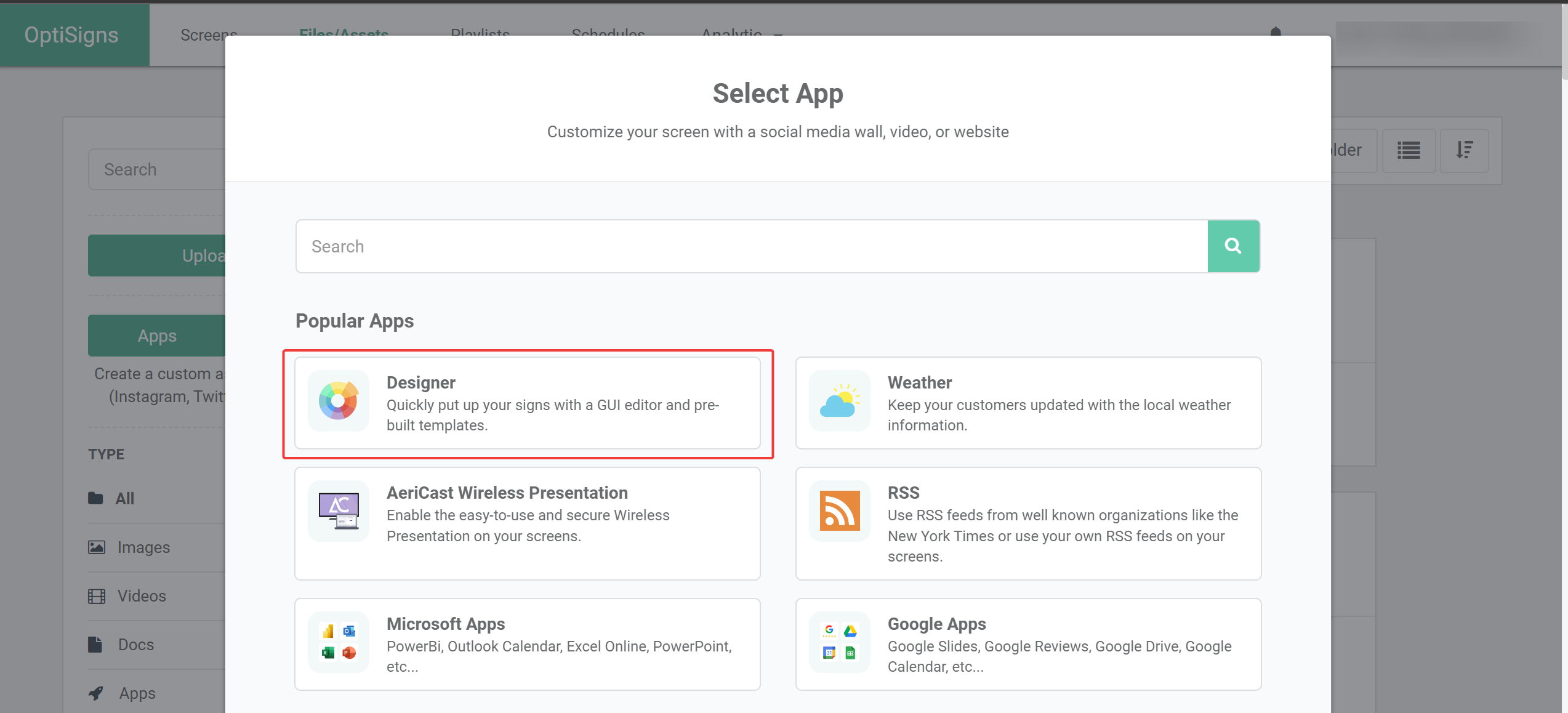 Click on Templates -> New Design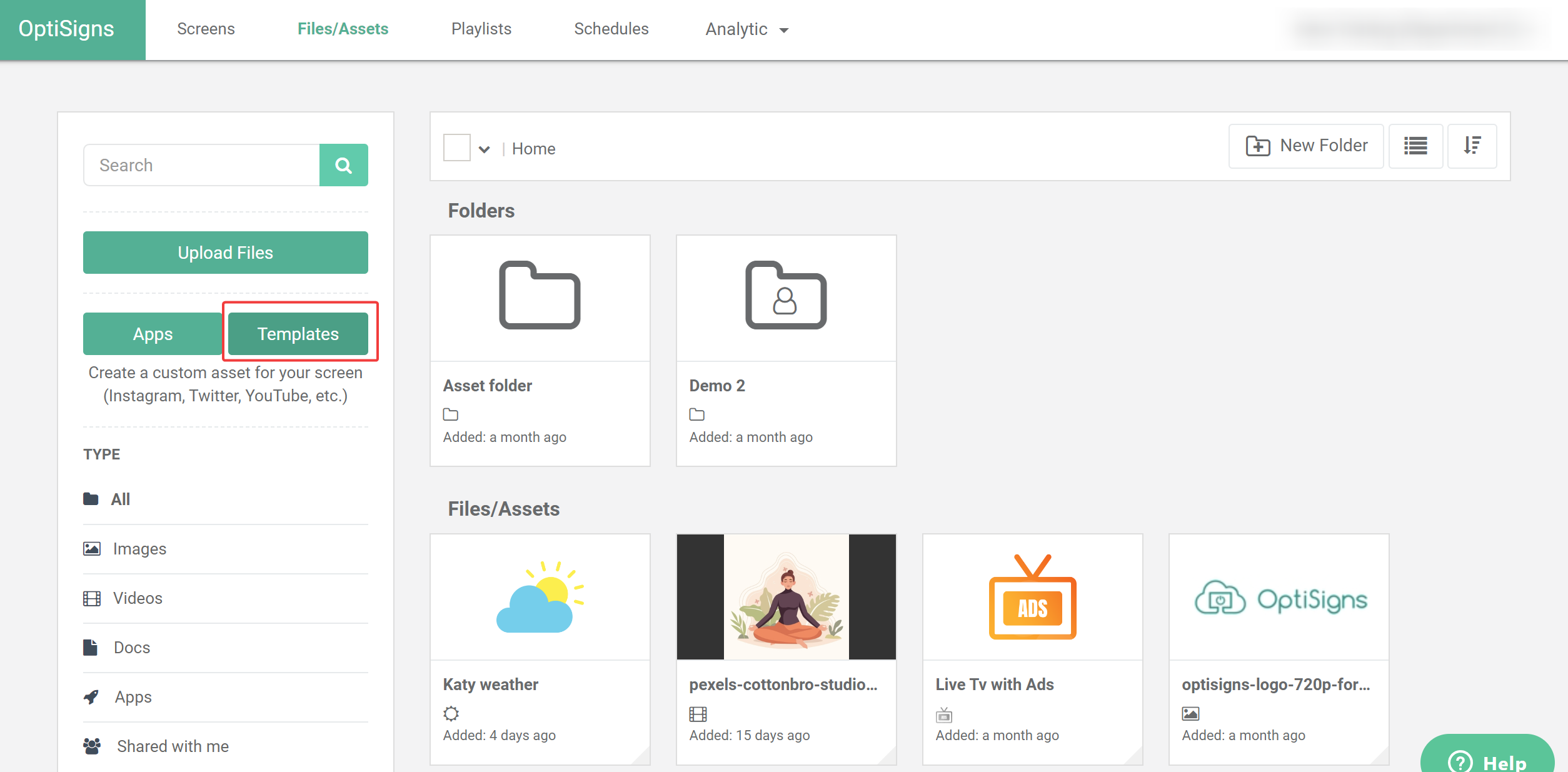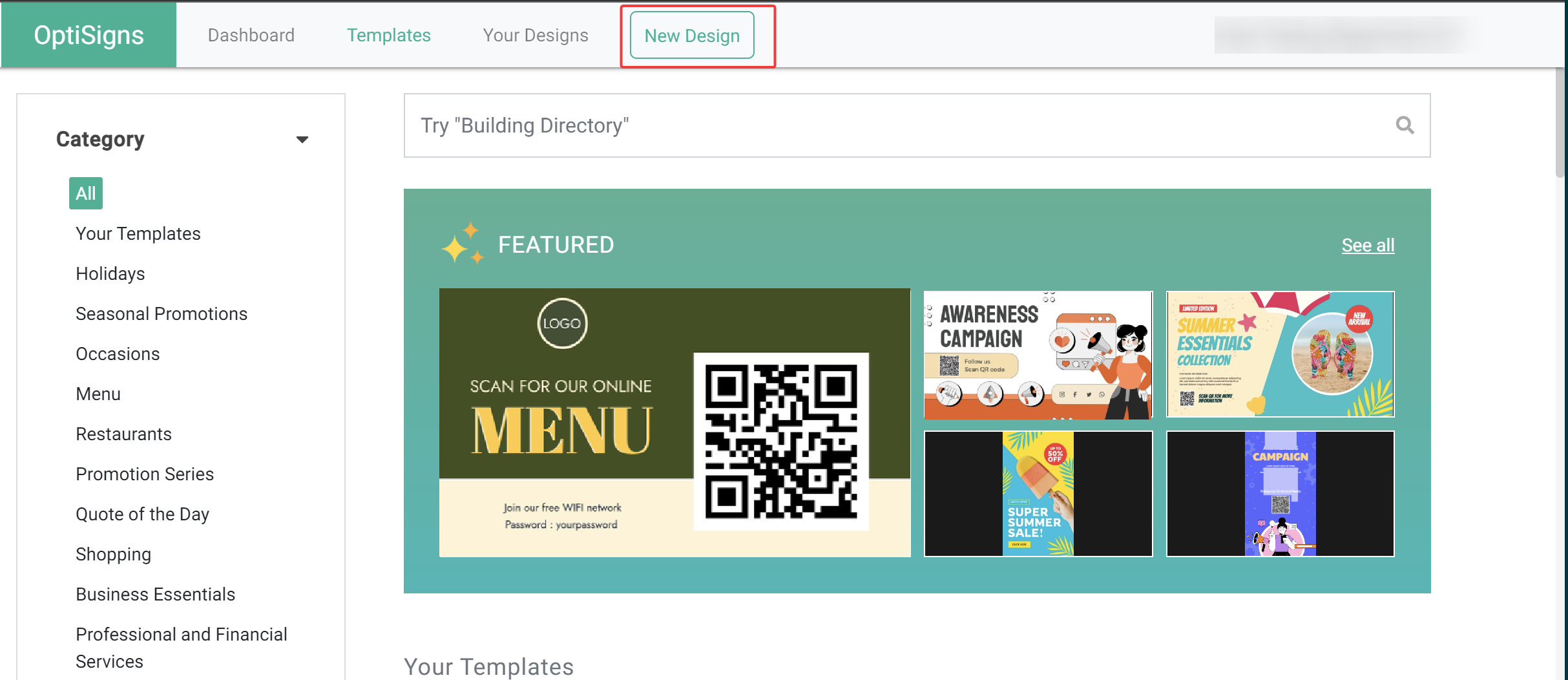 Browse for templates in our Template library
To access our Template Library, simply go to https://canvas.optisigns.com/
Or, you can click on 'Templates' on the Files/Assets page
Here, you can search and browse to find the template that meets your needs.
To learn more about navigating through the template library, please click here.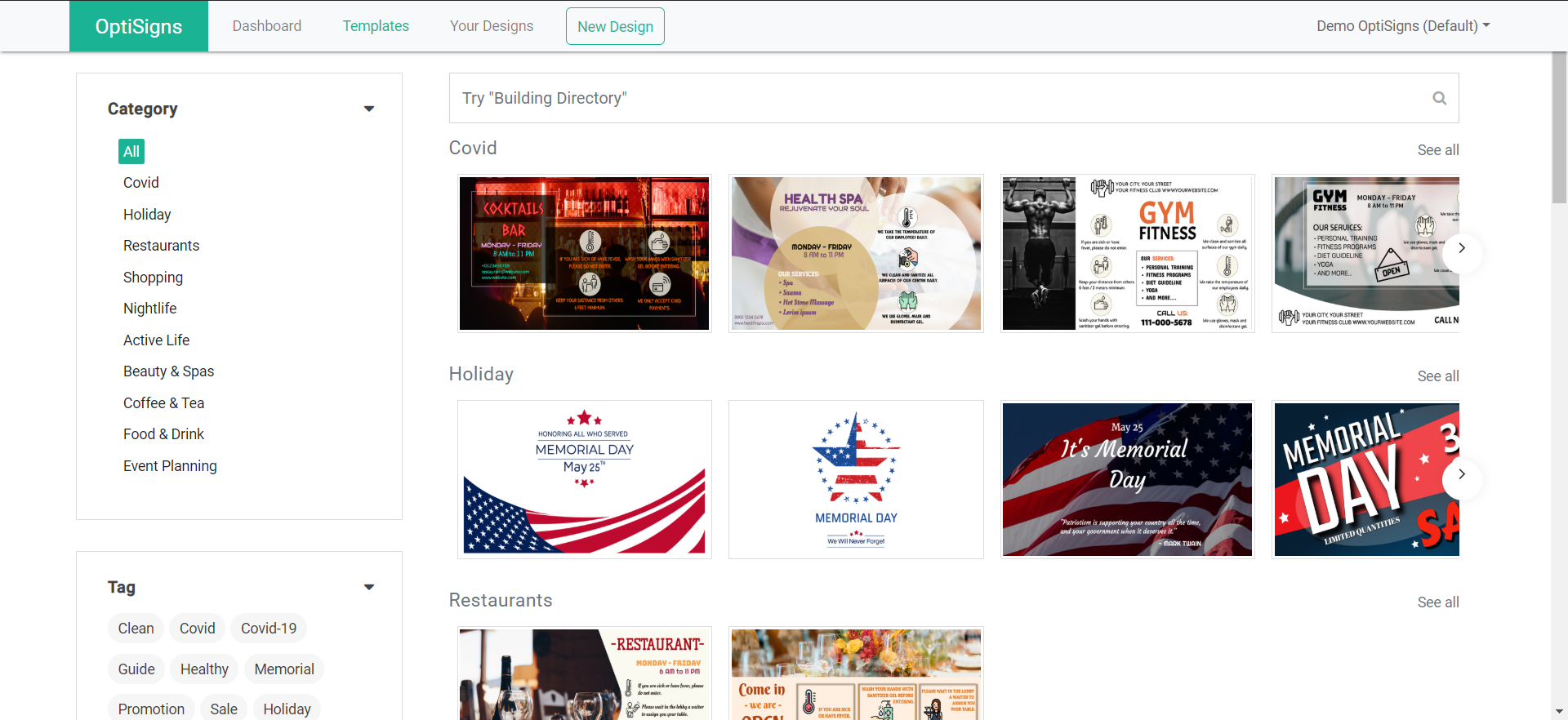 Click on any template to Preview & click on Use This Template to start editing.
This will open the Canvas Designer and you can start editing your Design.
You can rename the design by clicking on the name on top bar.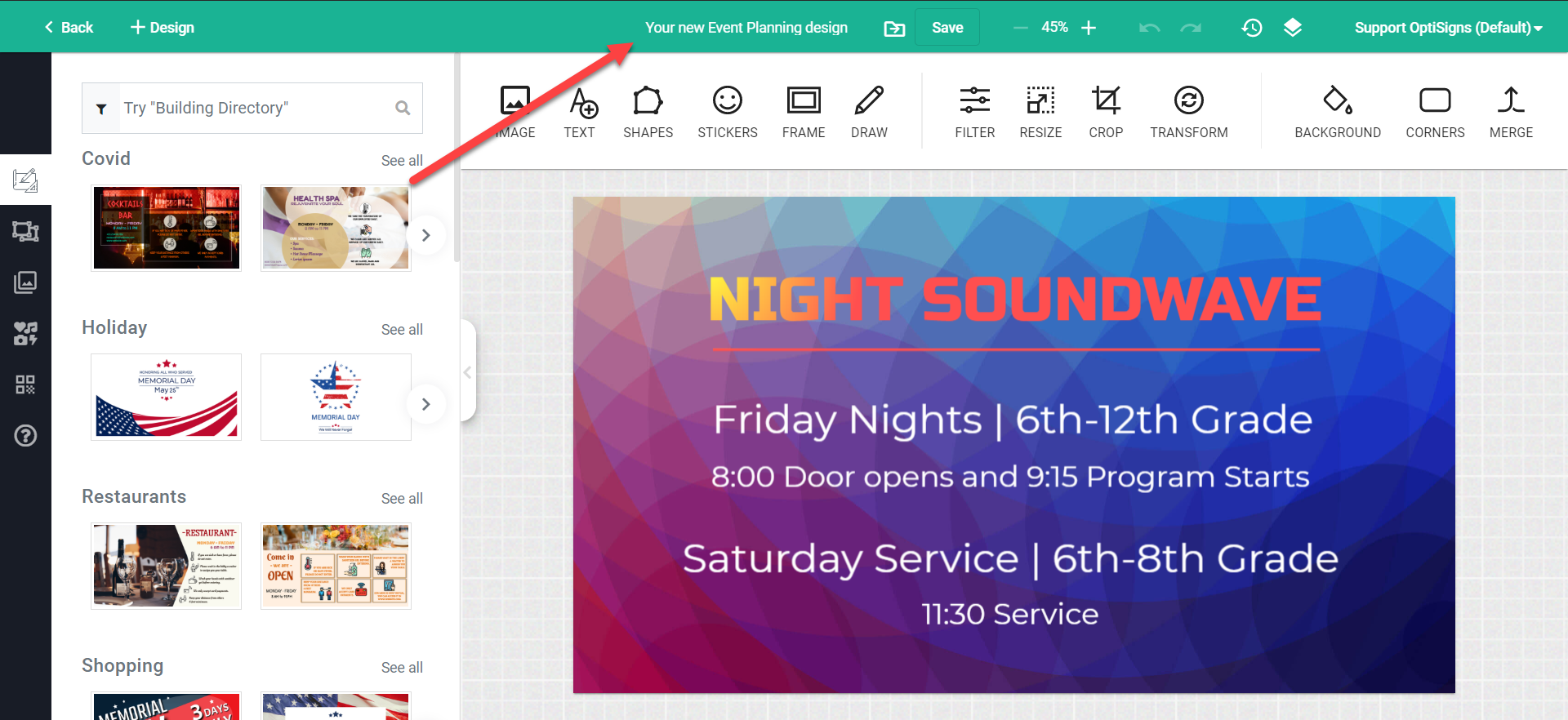 Assigning your design to your screen
Once a design is created, it is just like any images you upload to your OptiSigns File/Asset.
You can go to the Dashboard (app.optisigns.com) Click Edit Screens and assign your design to it.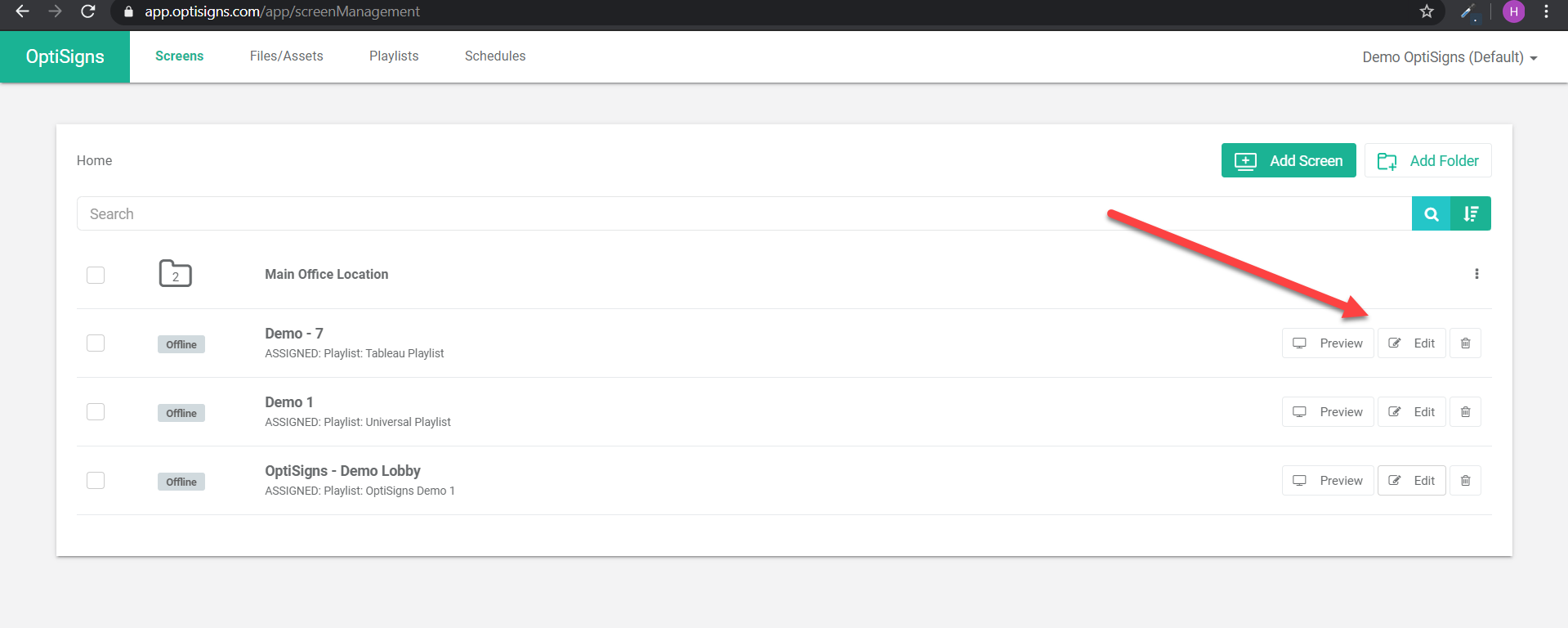 For detail guide to set up your screens and assign content, click here.
Adding Stock Photo to your design
Click on the "Photo" button on the left hand side menu to open Stock Photo section.
You can search for photo and click to add it to your design.
Stock Photo is powered by Unsplash with 1.5M and growing number of photos.
Adding icon/elements to your design
You can add icons, elements to your designs by clicking the "Element" button on the left hand side menu.
There are 1000+ well designed icons to browse, search and choose from.
Click on any icon to add it into your design.
You then can further edit its size, color, opacity, etc. by clicking on the icon once it's in your designs canvas.

Adding QR Code to your sign
QR Code is a great way to get more value out of your signs.
You can create QR code for variety type of actions, here are some good examples to go with Digital Signs:
Open your website URL
Call a phone number
Send an SMS Text message, you can even pre-fill some information
Take user to App Store to download an app (it will auto detect Android or iPhone and take user to the appropriate places)
Take user to follow your Facebook, Instagram, or other social media pages
Let user connect to your Wifi
and more ...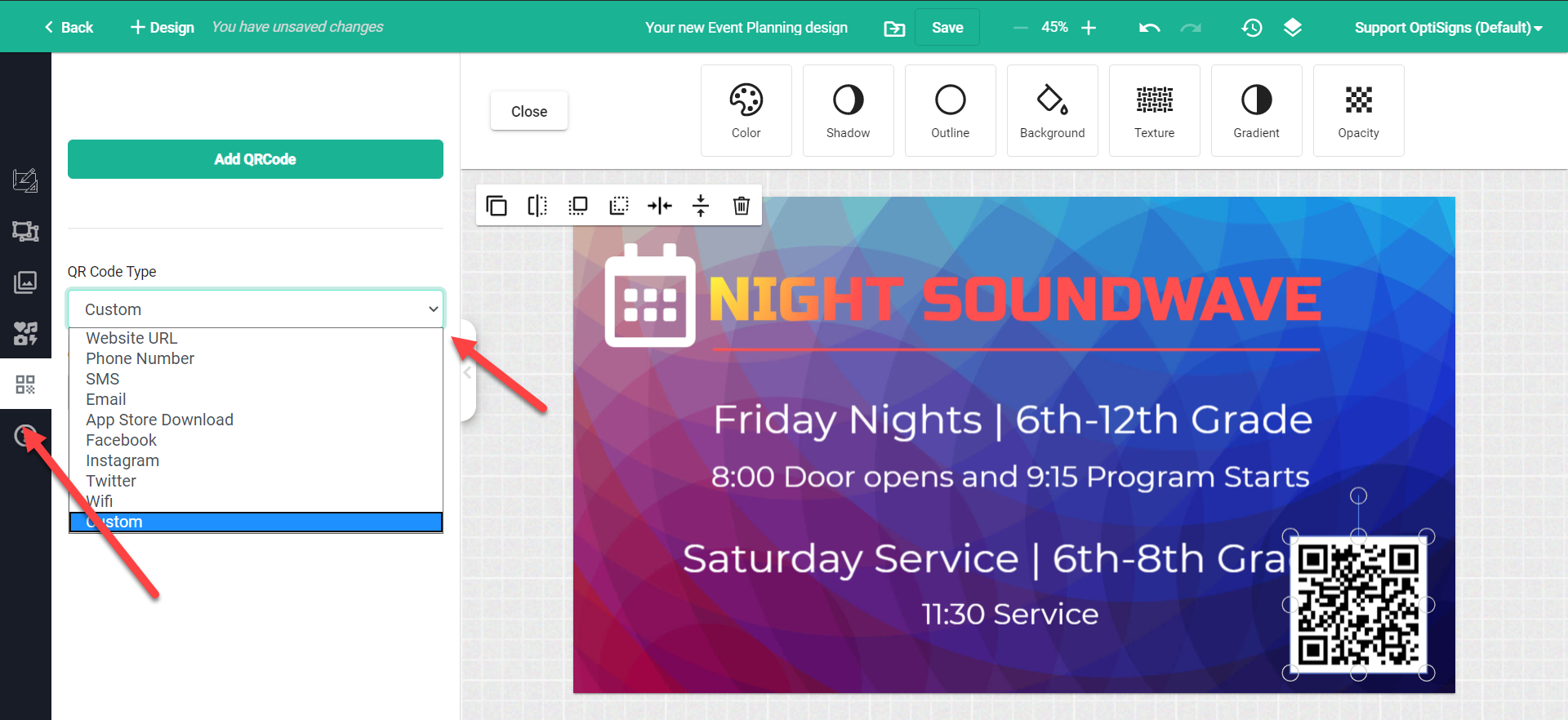 Create your own templates to share with your team
You can make your designs a template for your team to use by clicking "Your Template" on the left hand side menu.
Then click "Add Current Design as Template".
This will make a copy of your current design and set it as template. Now other users in your team will be able to see and use this template just like any standard templates provided by OptiSigns.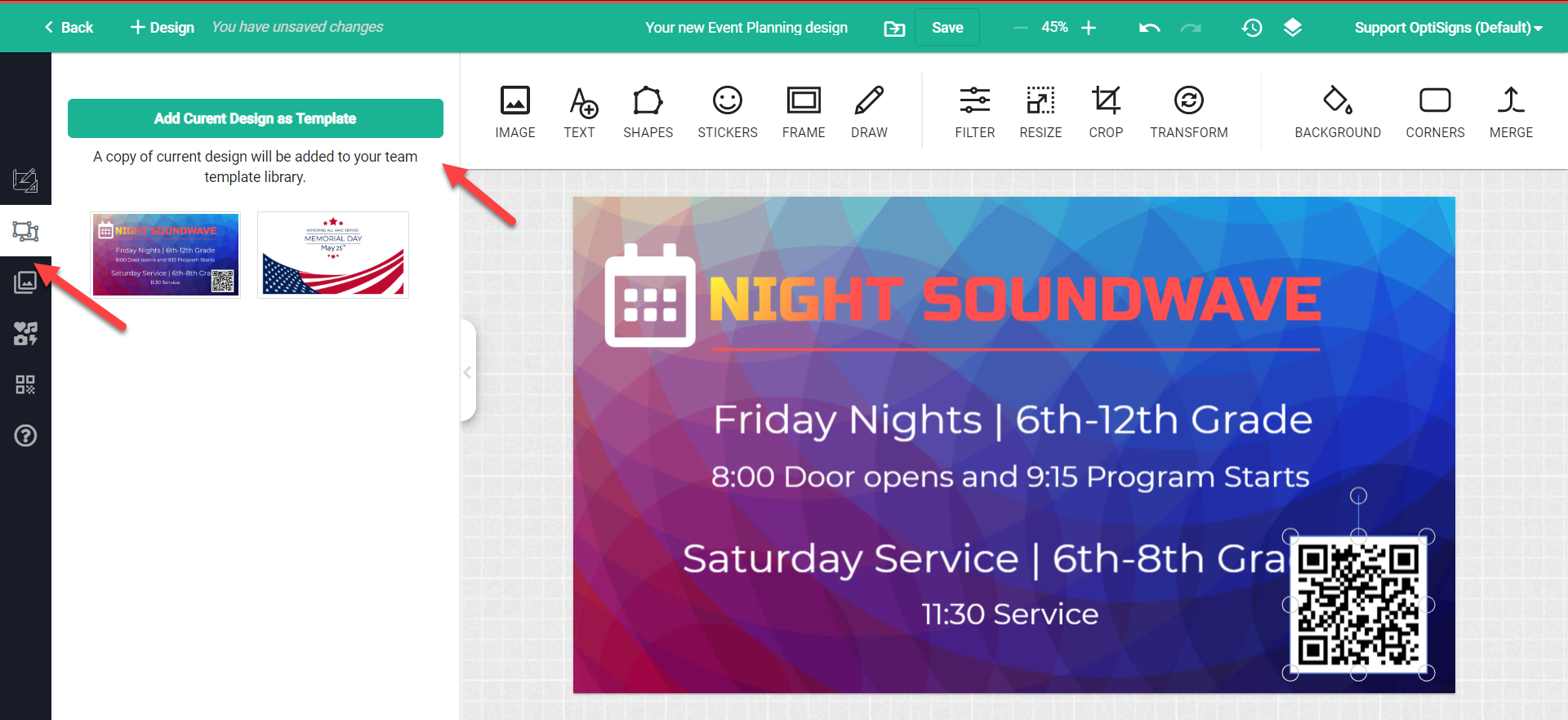 If you have any additional questions, concerns or any feedback about OptiSigns, feel free to reach out to our support team at support@optisigns.com or just submit a ticket here.