OptiSigns' template library is your one-stop destination for creating captivating and dynamic digital signage content. A treasure trove of professionally designed templates ready to breathe life into your digital signage projects.
In this article, we will guide you through the effortless process of exploring and uncovering captivating templates within the library, empowering you to elevate your digital signage content creation and take your message to the next level.
Ready to get started? Then, let's jump in:
Accessing the Template Library
Go to canvas.optisigns.com to access our template library, OR
If you already have a login with OptiSigns, you can access the template library via the URL or simply clicking 'Templates' from the Files/Assets page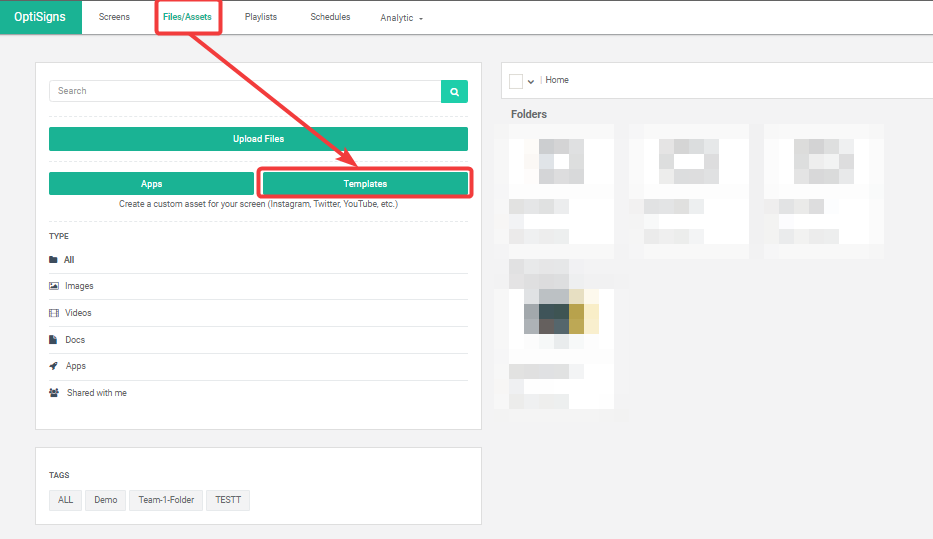 Navigating the Main Menu
Screens: This will direct users back to the Screen management page of your OptiSigns' account.
Templates: Default page of the template library,
Your Designs: Designs that you have created
New Design: Click to access a blank canvas and create your own design

Exploring the Template Categories
Browse Categories: Within the library, templates are organized into intuitive categories, simplifying your search for the perfect template. These categories span a wide spectrum, catering to diverse needs such as "Holidays," "Occasions," "Restaurants," "Menus," and more.
Recent Designs: This section is used to display the most recently created and saved designs, offering a quick overview of your latest creative work.
To start your exploration, select a category that resonates with your project objectives and freely browse through the available templates.

Featured Templates
The Featured section is a handpicked showcase of captivating templates that we think you'll love. Whether you're in search of inspiration or just want to explore some eye-catching designs, the Featured Template section is where you'll find them. You can click on 'See All' to see more templates.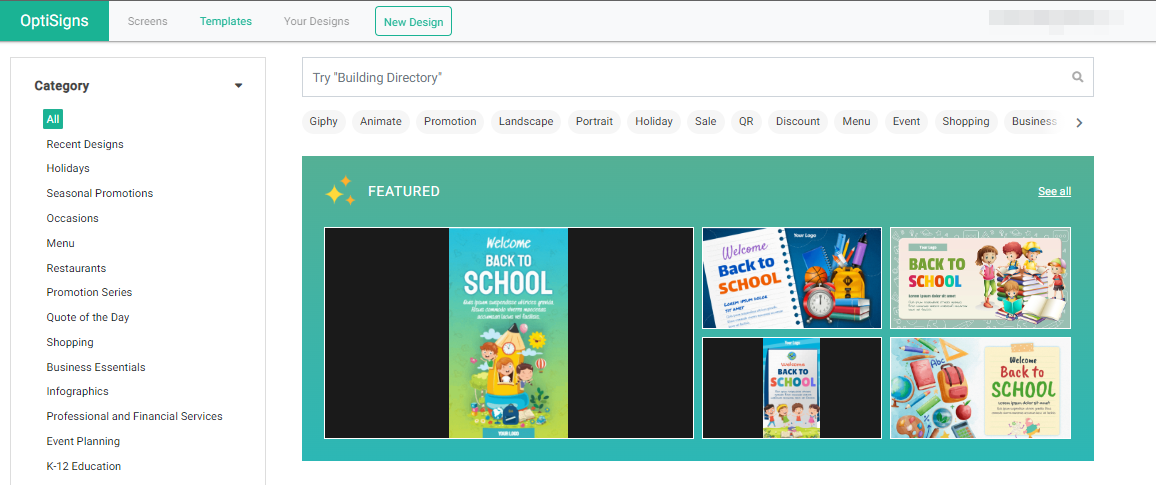 Selecting and Customizing a Template
Preview Templates: Once you have chosen your category and explored the array of templates available, click on the thumbnail to preview the template in detail. You will also have insight into the template's size and relevant tags. You can click on the tags to quickly search for relevant templates.
Customization: Once you've identified a template that aligns with your project vision, hit the 'Use this template' button. This will direct you to the Designer app where you can customize the template and incorporate text, images, videos, and other elements to craft a digital masterpiece that's uniquely yours.
To learn more about how to use OptiSigns' designer app, please click here.
Search for Templates by Utilizing the Search Bar and Tags
You can utilize the search bar to quickly locate templates by entering keywords related to your content.

At the top of the main page, you'll find tags that you can click on to effortlessly search for templates that precisely match your needs.

That's all!
If you have any additional questions, concerns, or any feedback about OptiSigns, feel free to reach out to our support team at support@optisigns.com or just submit a ticket here.