Monitoring & Alert is a Pro Plus and Enterprise feature that will allow you to receive notifications when devices are down.
You will be able to set up:
Which devices to monitor, maybe not all devices are important (you can choose to receive devices with certain tag only i.e. [important screens])

How many minutes or hours of down time before notification sent

To whom the notification should be sent (list of emails)

You can create as many rules as you like (i.e. Location A screens down will send email to admin in Location A, Location B screens down will send email to admin in location B, etc.)
Here are some best practices for you to get the most out of this feature and your screens:
Set the right expectation: if you have a lot of screens, it probably not practical to set goal for 100% screen up 24/7, for objective reasons like network, power, hardware failure there maybe some devices down for some time.
If you expect your devices to run for X hours/day, you can run Proof of Play report by devices and see how many hours your devices have ran over last 7-30 days and see which devices are not meeting the X hours/day goal
Set up a process, training in place for location's admin to help you troubleshoot when there's issues.
If you are not running your screen 24/7, say your business hour is 7AM - 7PM, set alert if downtime is >13h so you will not have notification every day, and still able to catch screen down within 24h.
How to set up Monitoring Alert feature:
Go to Account Settings and click Monitoring Alert.
Or you can go straight to this page: https://app.optisigns.com/app/s/monitoring-alert-rules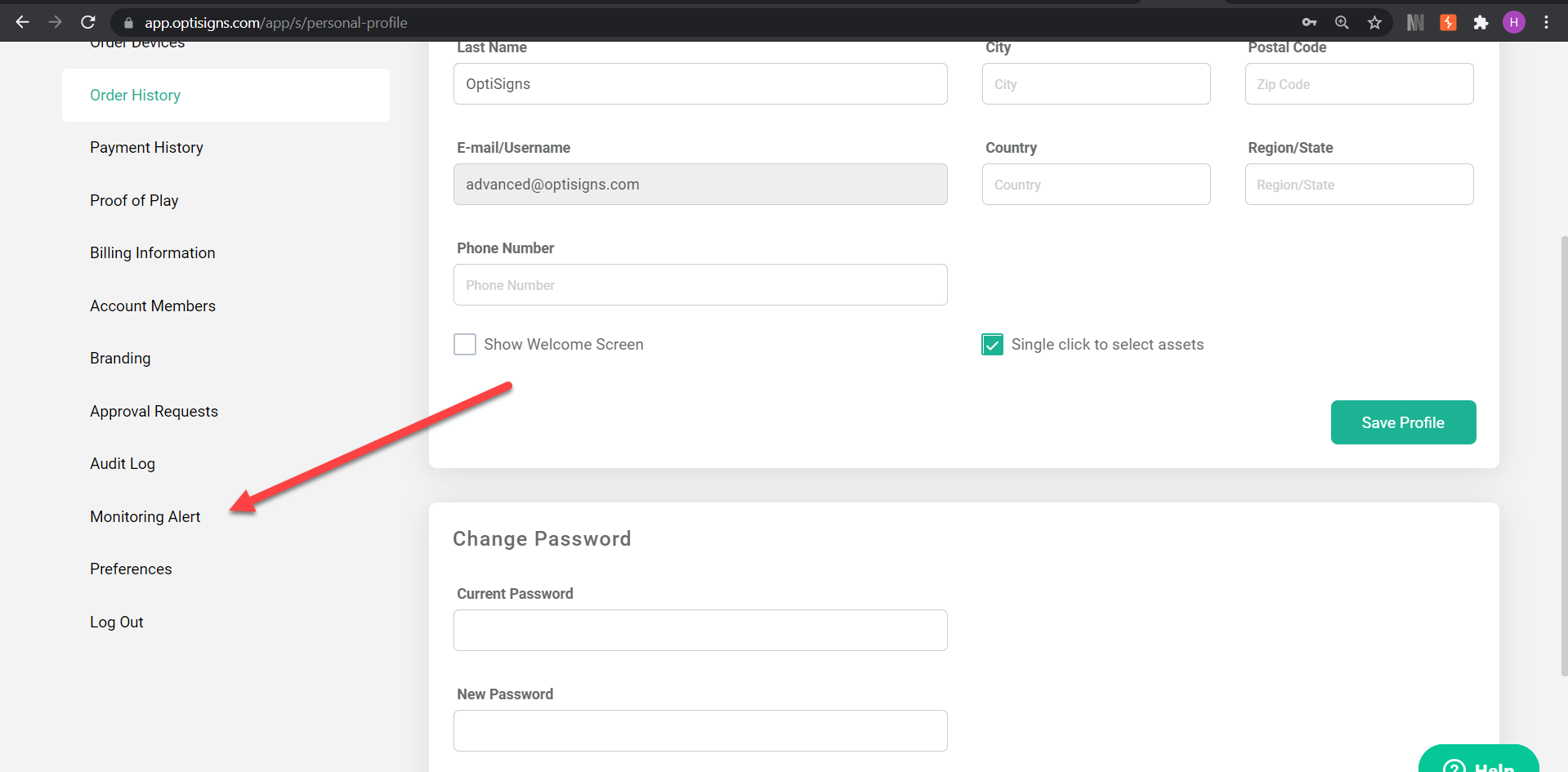 Click Create New Policy: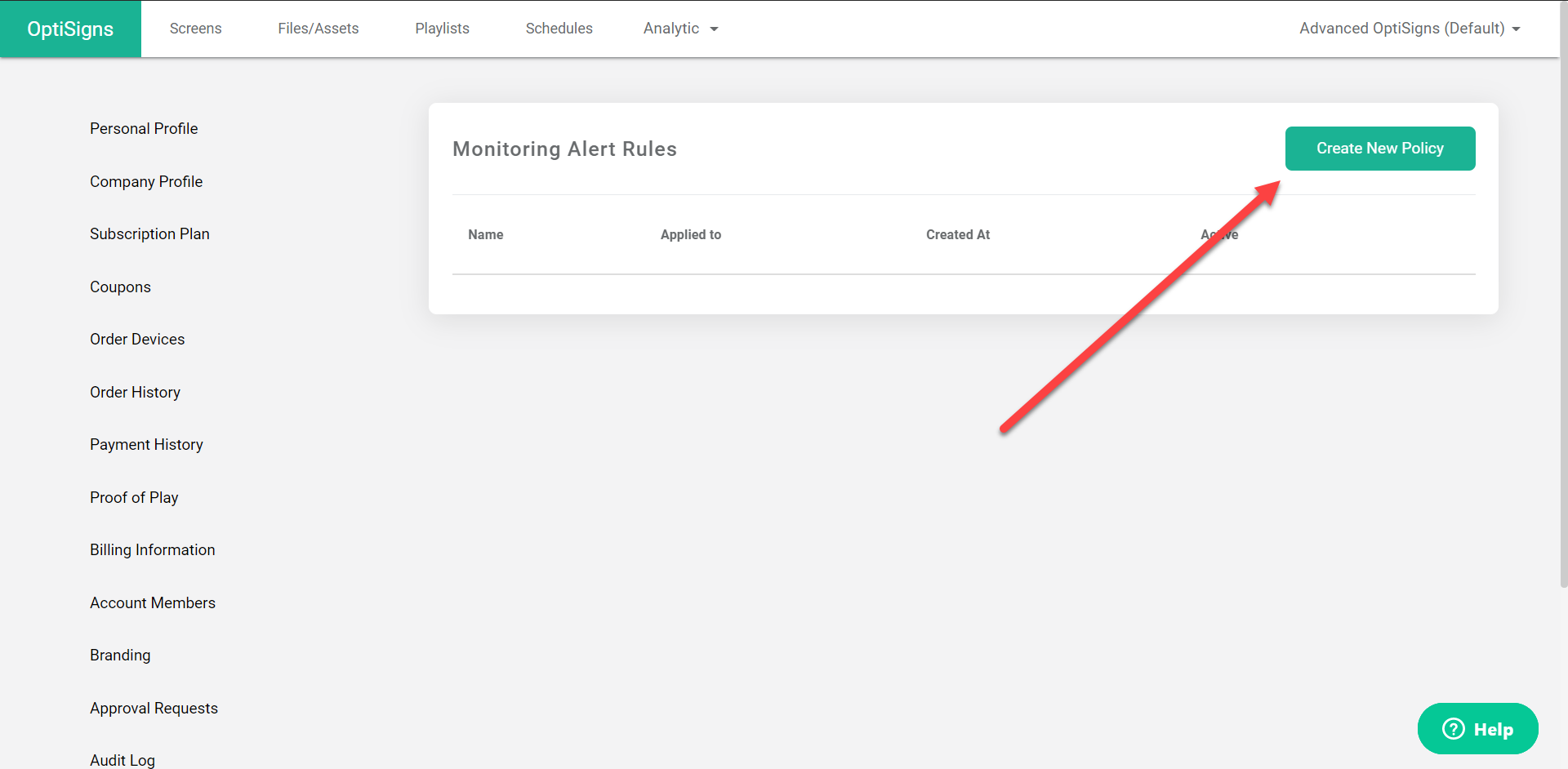 Fill in the settings for your policy: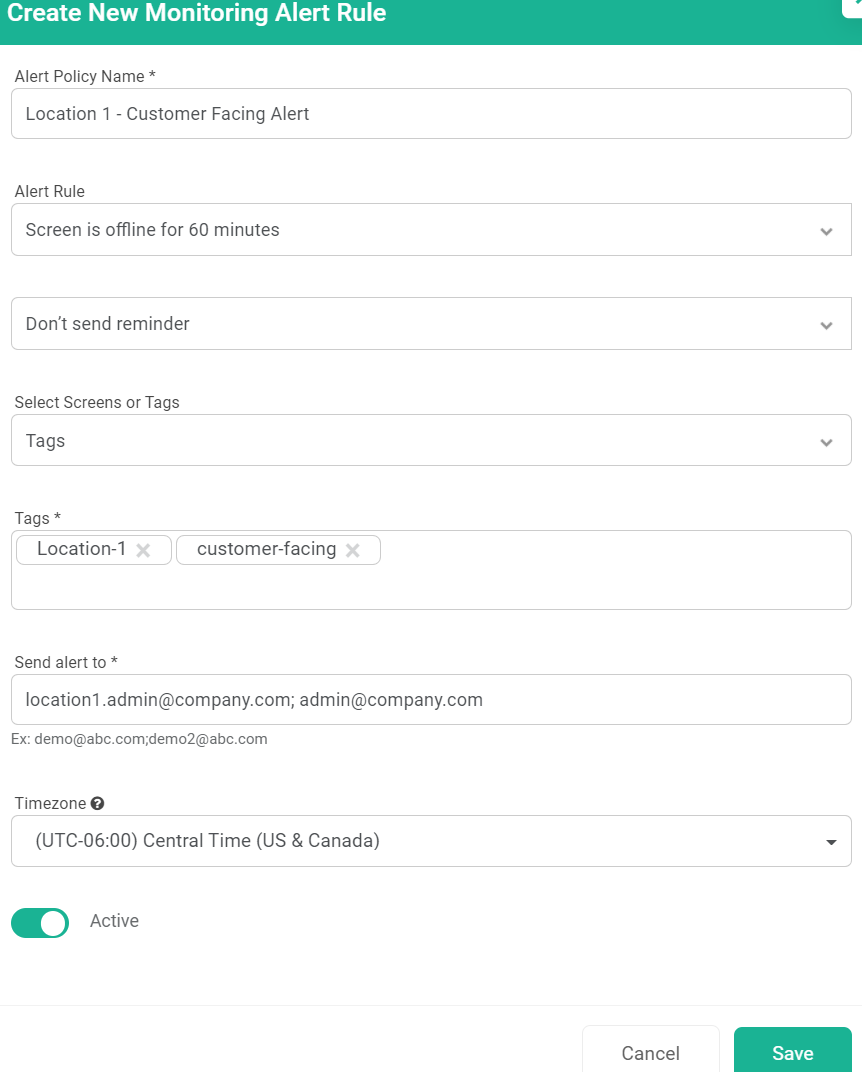 Alert Policy Name:

This is just a name to show in the list of policy, since you can create more than one.

Alert Rule:

how often you want monitoring rules to run. Our suggestion is 60min. While OptiSigns support monitoring at 15min interval, 60min may help you to avoid some false positive due to temporary network, power issues

Send Reminder:

how often you want OptiSigns to send reminder when screens are down. Our suggestion is to send reminder once a day. While OptiSigns support sending reminder every hour, this may just clutter up your inbox if you are not going to take actions on the screen within 1h of getting notification.

Select Screens or Tags:

select which group of screens you want to monitor, not all screens may be equally important to you. You can select group specifics screens or group of tags. In this example we select all screens tags as [Location-1] and [customer-facing]

Send alert to:

list of email address alerts to be sent to
Time zone: which time zone you want to follow. In alert email will reference as of time, if device is in New York (EST), and you are in Houston (CST), the down time will be convert to Houston (CST) time. This is necessary and useful especially if you manage many devices across time zones.

Active:

you can turn the rule on/off. Sometimes you may want to turn it off temporarily if you are doing changes like building renovation or network upgrade that you know devices will not be on, so you don't receive too many alerts.
Here's an example of alert email: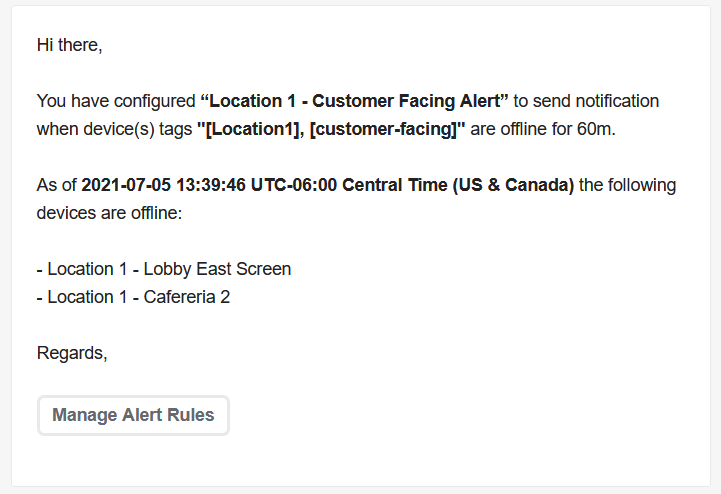 You can click "Manage Alert Rules" to go to manage alert rule pages and update your rules if needed.
That's it!
You have created Monitoring Alert rule to help you get notifications when your screens are down, so you can take actions.
If you have any additional questions, concerns or any feedback about OptiSigns, feel free to reach out to our support team at support@optisigns.com or just submit a ticket here.