If you are using Pro or Enterprise Plans, and running Windows, Linux or Raspberry Pi devices, you can install optisigns-remote-agent add-on that will allow you from the portal to remotely control your device.
Once set up, in Edit Screen Modal, Advanced section, there's an Open button.
Clicking on this button will open a new window with remote session for you to control, troubleshoot your device.
How it works:
When activated, optisigns-remote-agent will be installed on the device, this is an independent app from OptiSigns Digital Signage Player, this will ensure even there's issues, crashes affecting OptiSigns Digital Signage Player, you still can remote in to troubleshoot
How to enable Remote Control Feature:
If your device is running Windows, please follow this guide.
If your device is running Linux, Raspberry Pi, please continue, it will be activated automatically. If you need to manually activate it, please follow this guide.
To enable this feature you must run OptiSigns player version 4.2.1 or newer on your devices. You can download the latest version of the app at https://www.optisigns.com/download
You can click Edit Screen, then "Advanced" to expand Advanced device management options.
Then click Activate.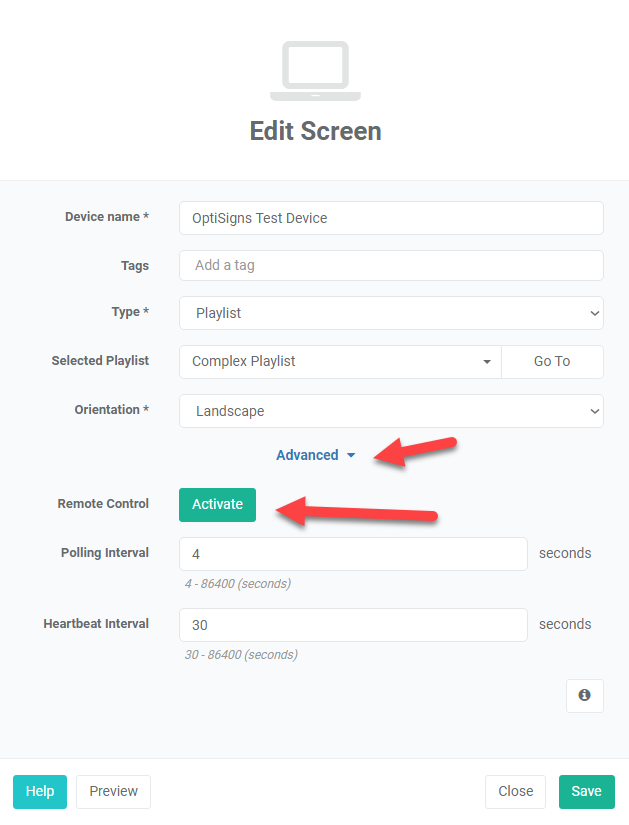 It will take a moment to activate (15-30 seconds) to download & install the agent, depend on your internet connection. After activation successful. You can click Open to open remote session to your device.
If Activation failed for some reasons, usually the user/account running OptiSigns Digital Signage Player does not have enough authorization to install new app or run background services, or it could be network firewall issue prevent downloading the optisigns-remote-agent app.
In this case, you can follow this guide to manually install and activate optisigns-remote-agent app.
If you have any additional questions, concerns or any feedback about OptiSigns, feel free to reach out to our support team at support@optisigns.com or just submit a ticket here.