Already have
A catalogs of products for your customers
Library of videos, documents for your employees
Turn it to an Interactive Kiosk with in minutes
You can click here to view our live demos - Demo 1, Demo 2
Think of it like organizing computer files with folders.
The root folder serves as the central directory for all your content, with subfolders acting as categories or themes for an organized structure.
These subfolders act as containers for your materials, making it easy to find and access specific content, resulting in an organized and user-friendly experience for your audience.
In this article, we'll show you how to create a Content Library Kiosk to transform ordinary waiting periods into immersive and entertaining experiences, benefiting users and enhancing overall service quality in diverse settings.
Note: This feature is available in the Engage plan.
Ready to get started? Then, let's jump in:
To add a Content Library Kiosk, go to Engage -> New App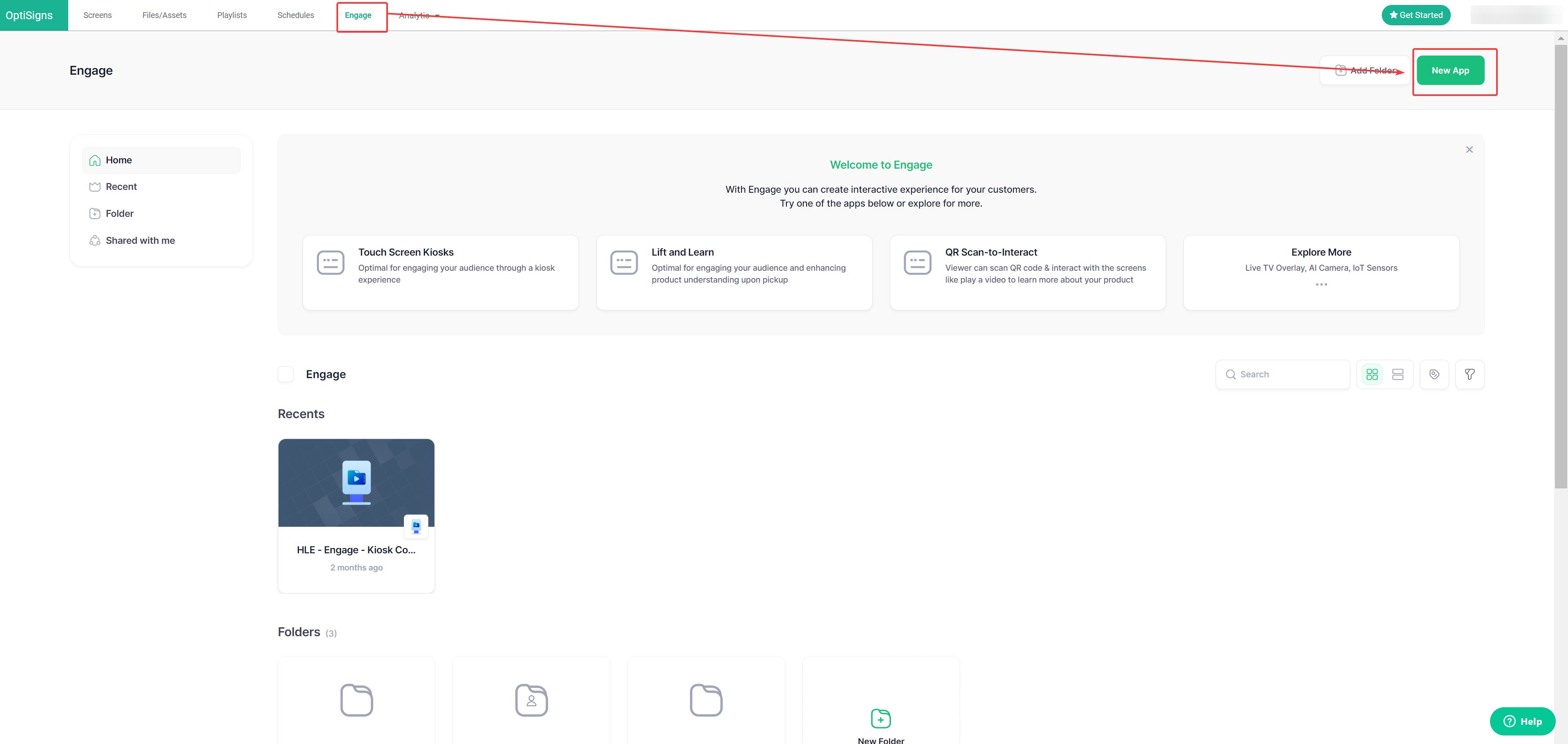 Select Touch Screen Kiosks. Then, go to next step to Select App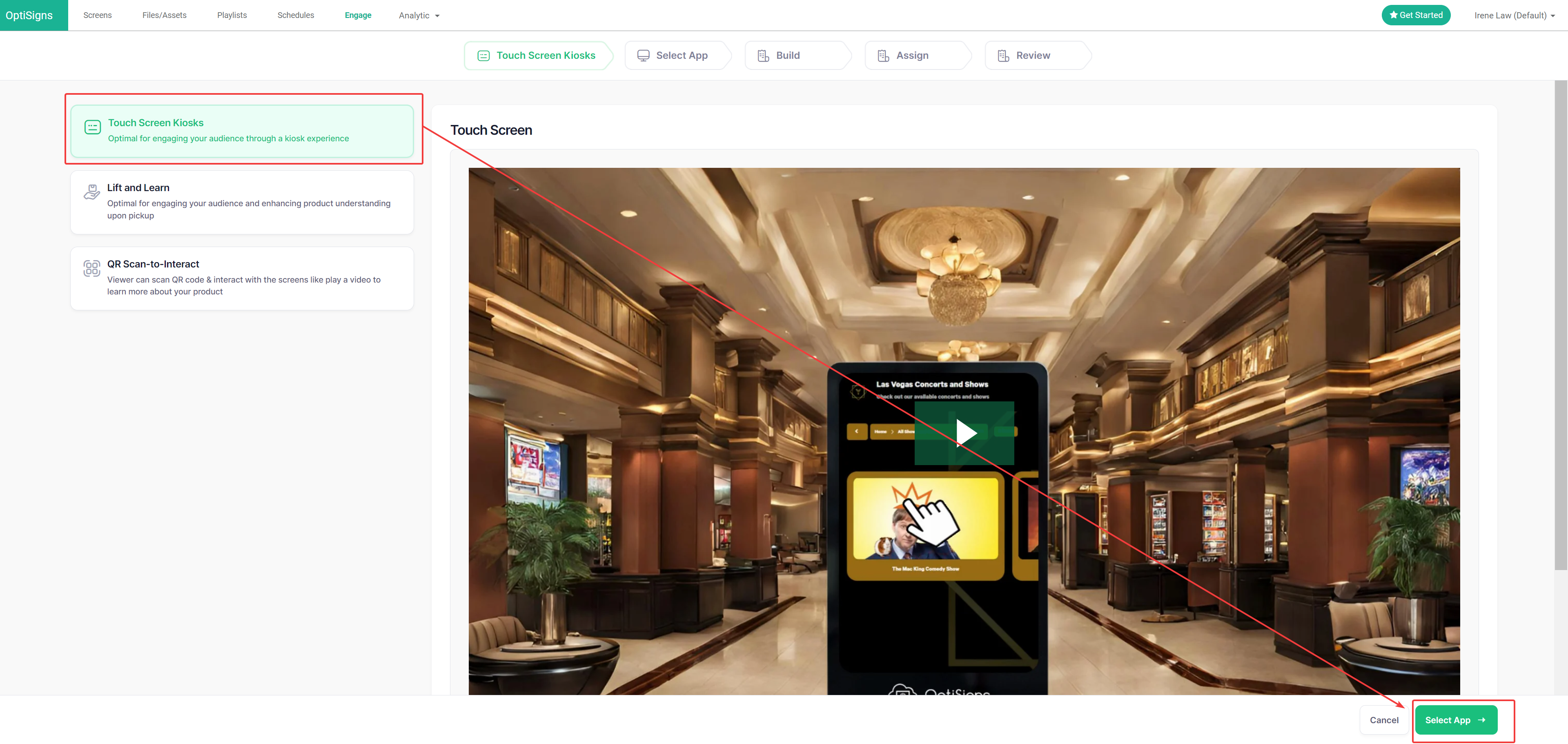 On the Select App page, click on Content Library Kiosk app then continue to Build.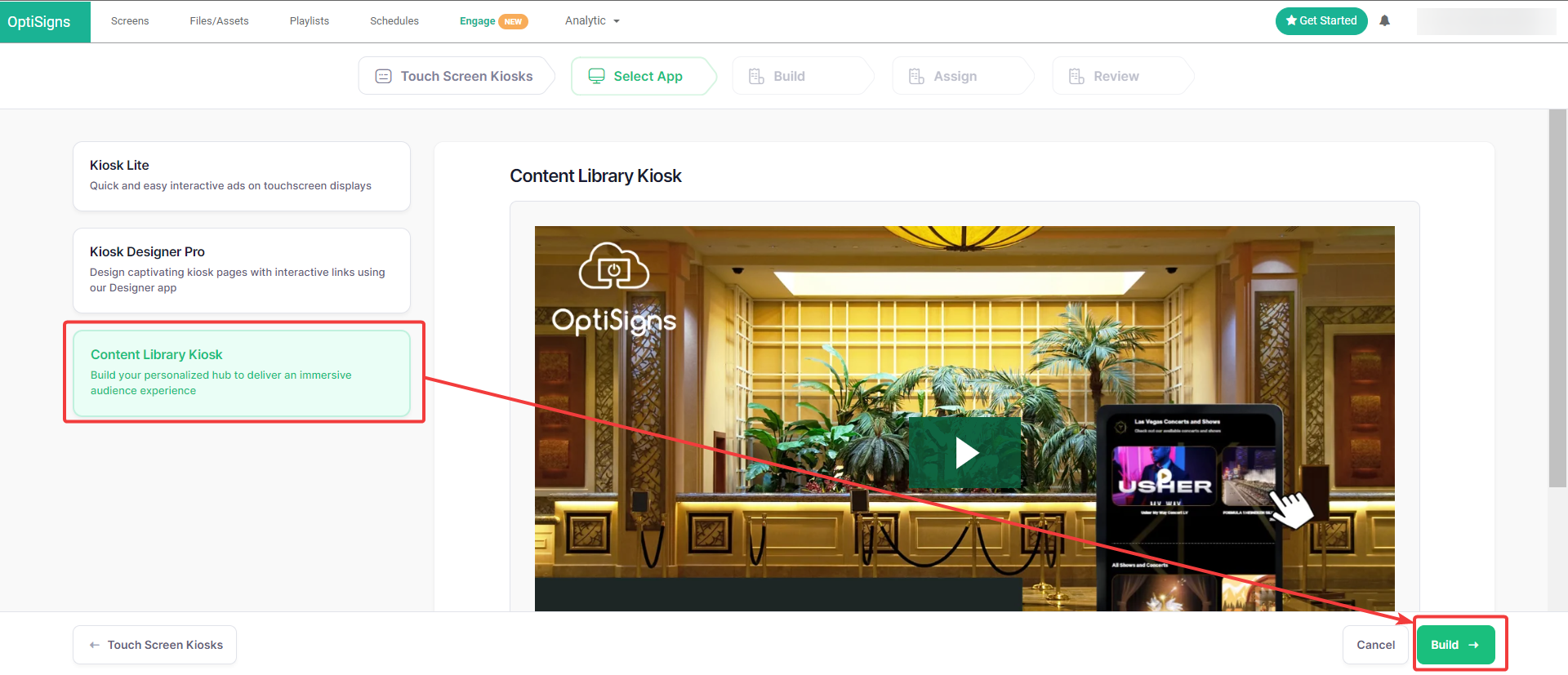 On the Build page, you will have several key features that you can customize and configure. Let's dive into each configuration detail: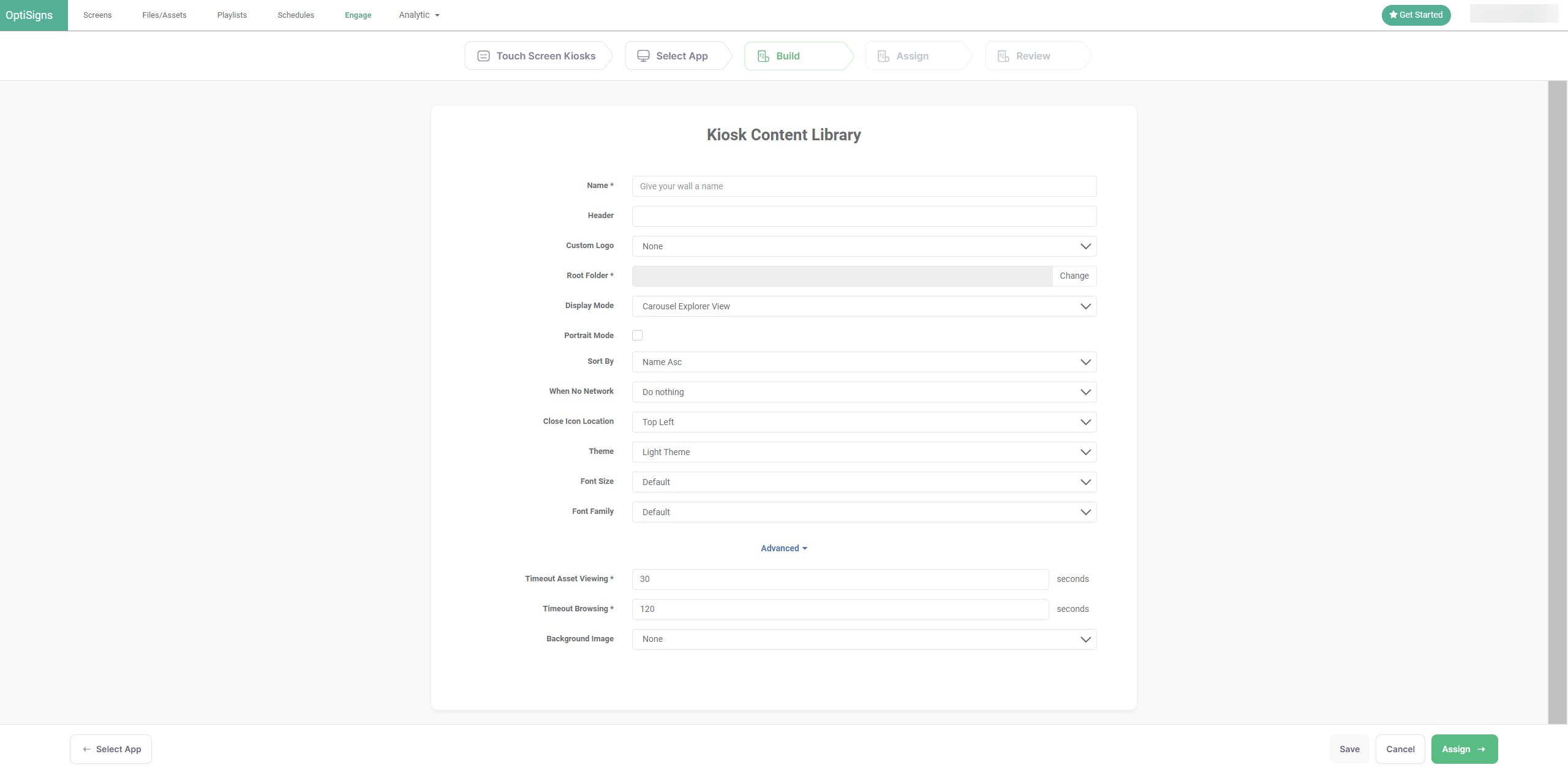 Name: A unique identifier for the asset, not visible on the kiosk
Header: The title displayed on the content library kiosk.
Custom Logo: A personalized logo that can be added to the interface.
Root Folder: The main directory where content is organized. Required field.
Featured Folder: A designated directory showcasing highlighted or prominently displayed content. In Carousel Explorer View, the featured folder will be displayed at the top of the kiosk page.
Display Mode: Choose a layout for showcasing content.

Carousel Explorer View - Folders within the root folder are presented in a rotating carousel format, while individual contents within the root folder will display below it as tiles.
Content Explorer View -Folders within the root folder are presented at the top as long tiles, with individual contents within the root folder displayed below as tiles.
Tile View - All contents, regardless of whether they are in folders within the root folder, will be displayed as individual items and in tiles.

Portrait Mode: This setting will turn all your content orientation to a vertical display.
Sort By: Criterion on how your content will be displayed on the kiosk based on the assets created within the folders.
When No Network: Options for behavior when the kiosk is offline.

Do nothing - leave as-is
Disable Web Assets - Any assets requiring the web will still be visible but disabled until the network is restored.
Hide Web Assets - Any assets requiring the web will hidden until the network is restored.

Close Icon Location - Location of where you would like the Close (X) icon to display on your kiosk screen; choose 'None' if you do not want the close icon to display.
Theme: The visual style applied to the kiosk interface.
Font Size: Specify the size of the text within the interface; set to Default
Font Family: The chosen typeface for text elements.
Advanced Settings:

Timeout Asset Viewing: Set duration in seconds before automatic closure of displayed assets
Timeout Browsing: Set a time limit in seconds for user inactivity before returning to the main screen.
Background Image: Customize the image for the kiosk background.
Once you have set your configuration settings, click Assign to continue to the next page. On this page, you can assign your content library kiosk to a screen or screens with a specific tag.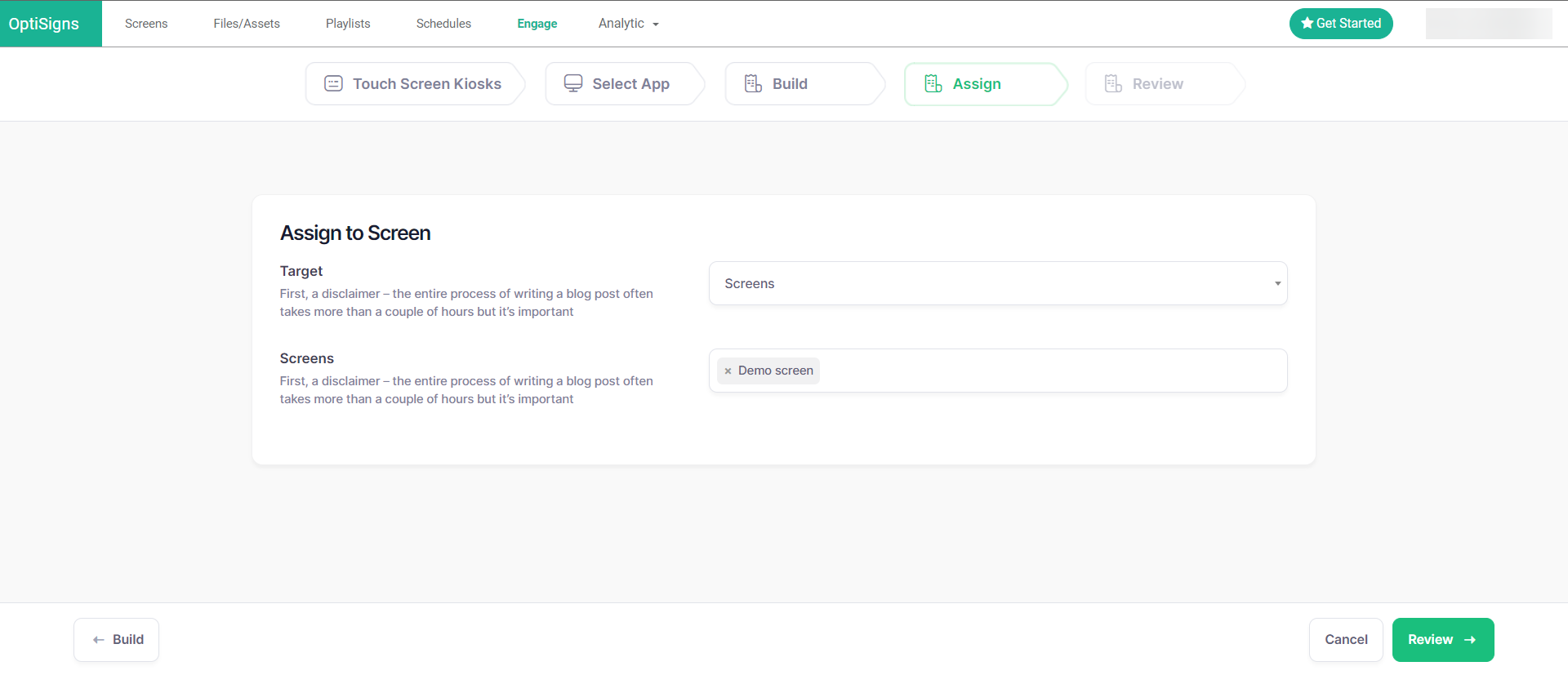 Click Next when ready.
On the Review page, you can review all of your configuration settings and preview the screen prior to committing your changes. You can also preview in full screen by clicking on 'Preview Full Screen' on the bottom.

When ready, click Complete.
From here, you could either Return to Apps or Start a New App.
That's all! It's just that simple!
If you have any additional questions, concerns or any feedback about OptiSigns, feel free to reach out to our support team at support@optisigns.com or just submit a ticket here.