In this guide, we will walk you through end to end process to install OptiSigns Digital Signage App on your Android TV and assign a playlist to it.
Here are the high-level steps:
1) Download & Set up OptiSigns Digital Signage App in your Android TV.

2) Using OptiSigns's web portal to assign content and manage your screens

So let's dive in!
1) Download & Set up OptiSigns Digital Signage from Google App Store
Press the Get more app button on the Android TV,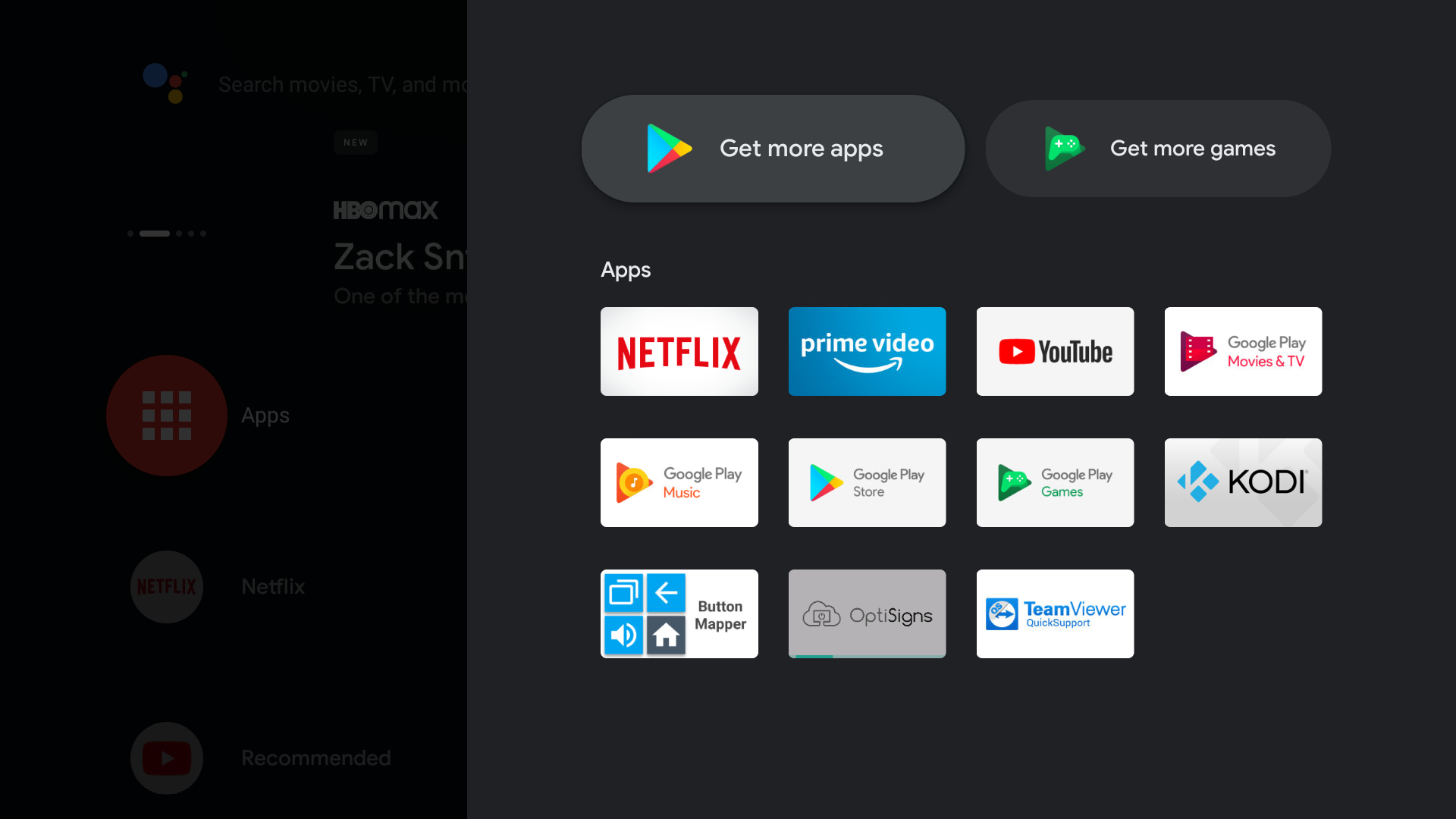 Type in "optisigns".
After you typed "optisigns", be sure to press the menu down button until the "OptiSigns Digital Signage" text is highlighted and then click on it.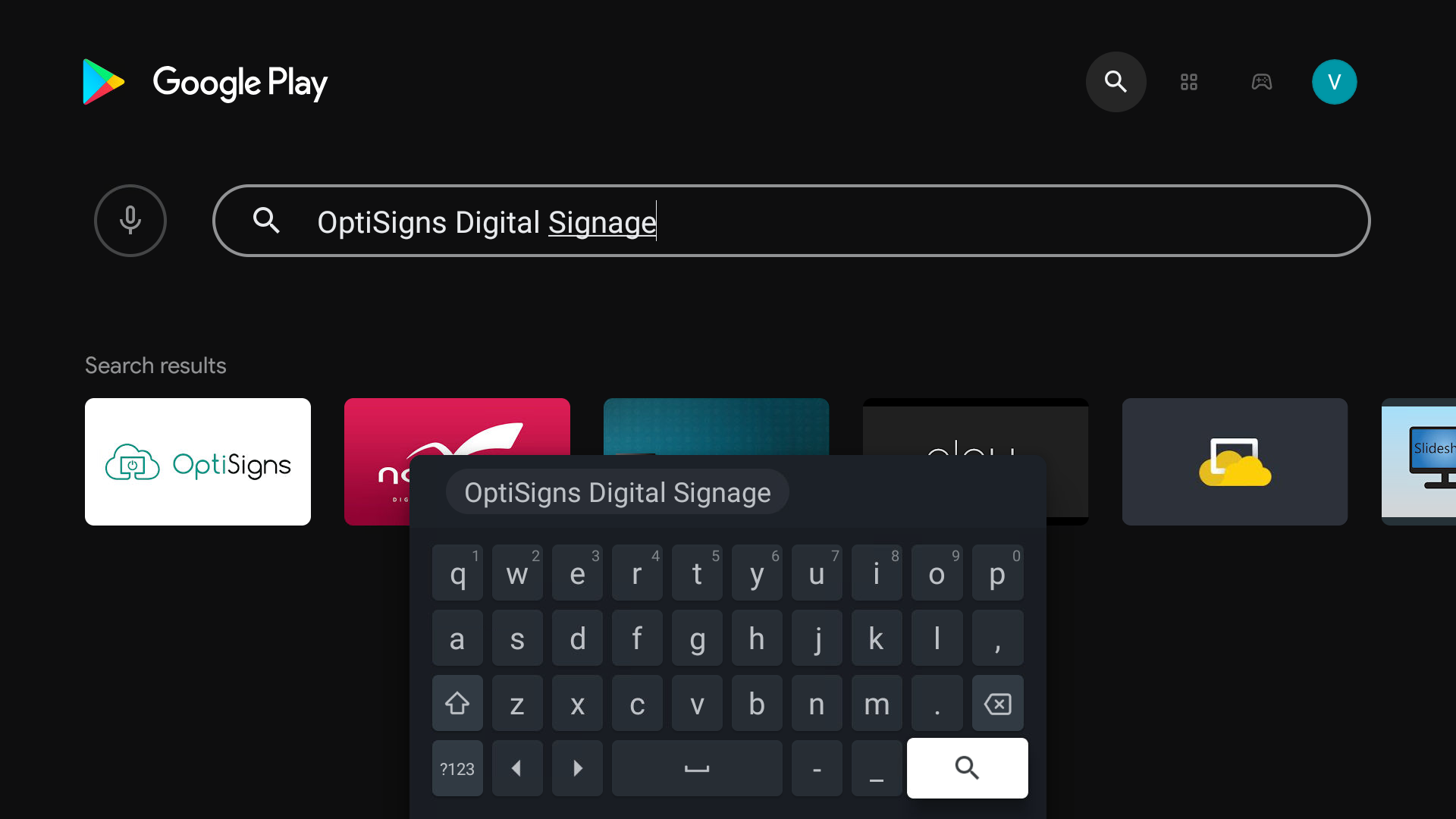 Click Download on the OptiSigns app icon.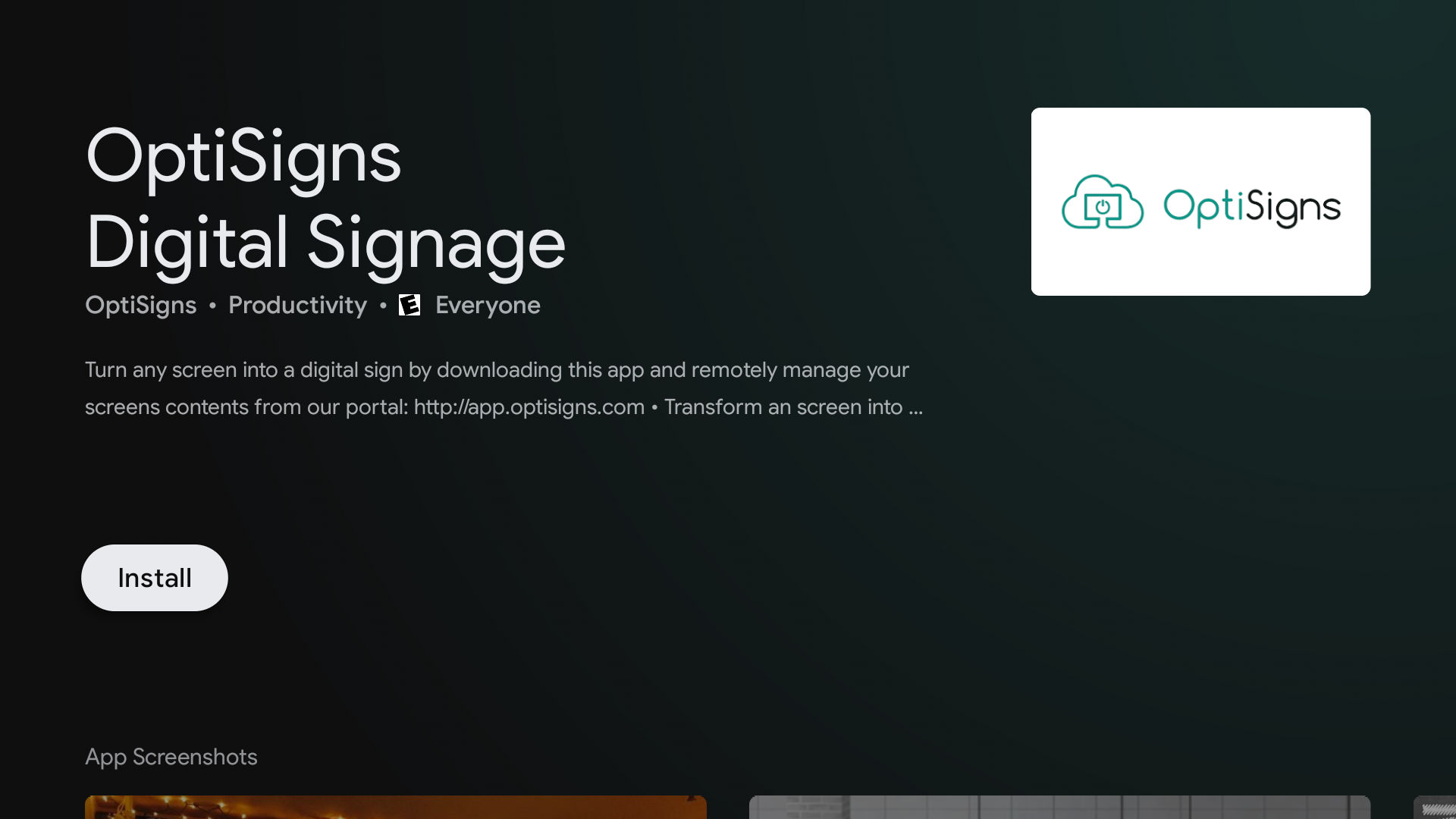 Once the app is installed, launch it.
The app will ask if you want to automatically start when device start up. It recommended to select yes, unless you want to launch the app yourself every time manually.
You then will see this pairing screen: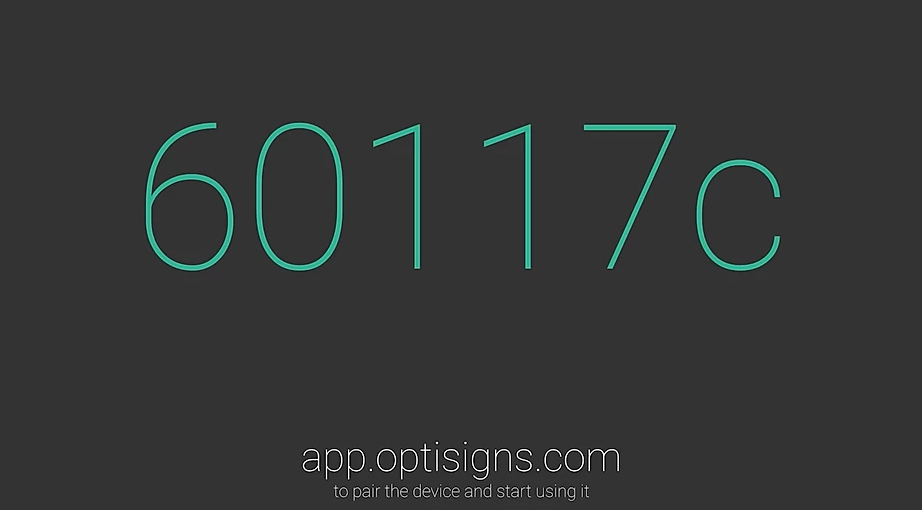 Go to our website: https://app.optisigns.com
If you don't have an account already, create one, or you can also log in with Google or Facebook account.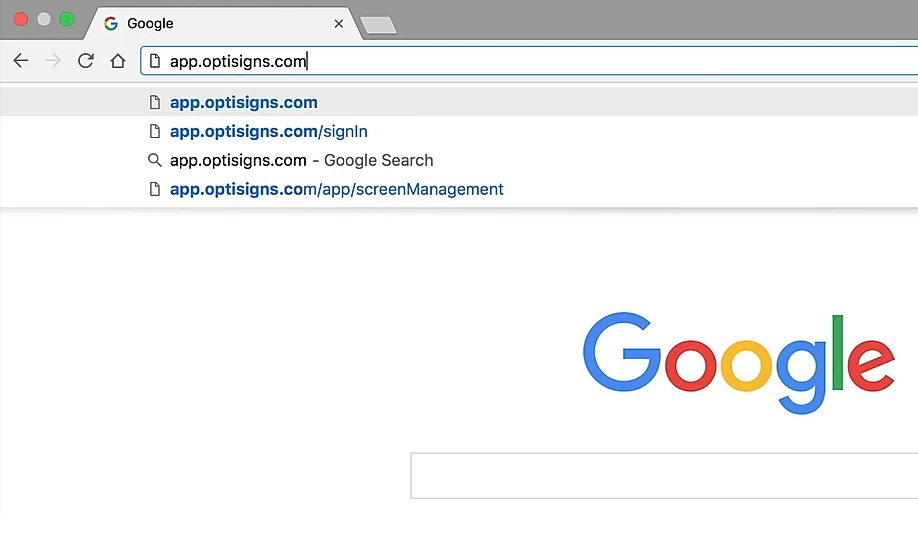 Once you logged in Click "Add screen" button

In this pop up, type in the Pair Code showing up on your Android TV screen. Then click Pair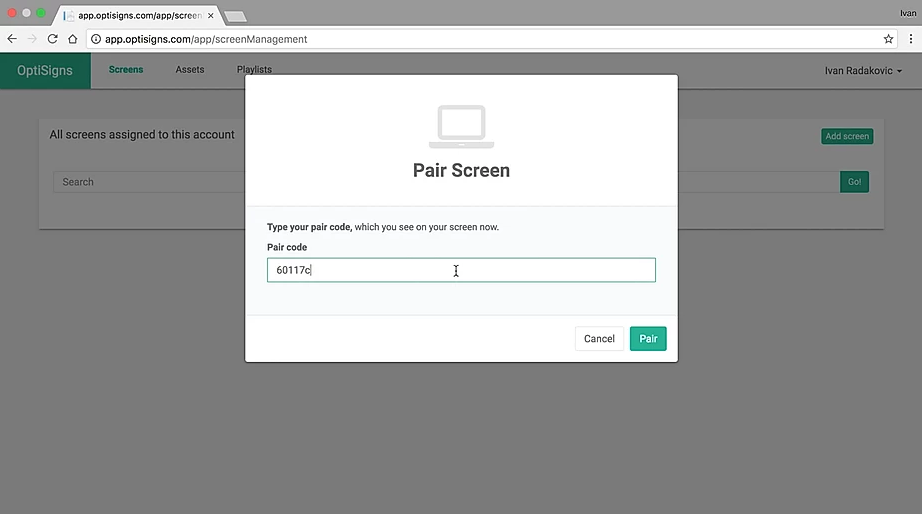 The Android TV screen will change to: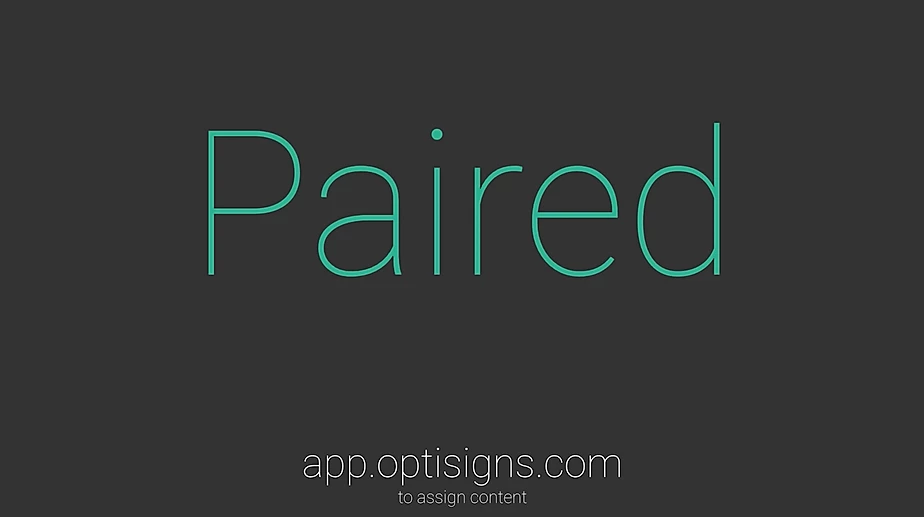 Now you are ready to upload and assign content.
2) Using OptiSigns's web portal to assign content and remotely manage your screens
1. Upload video/image to your account
Log on to your account. Click File/Assets
Click Upload Files
In this pop up, click to browse the file or drag and drop your files here.
2. Create a Playlist:
Go to Playlist Tab: Click Create Playlist A "New Playlist" will appear at the bottom on the screen. Click on it.
Click on the pencil button to change Playlist name.
Change it to something meaningful for you. In this case we will name it "Lobby TV Playlist"

Drag and drop Video/Images that you uploaded to the playlist.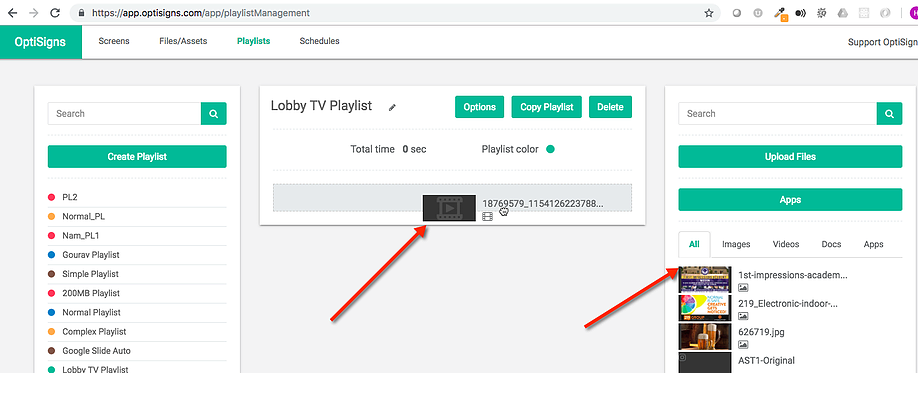 When you done, it should look something like below
You can click on the pencil button next to the item duration like below to change the duration of the item on the playlist.
3. Assign the playlist to your screen: Go to the Screen tab.
Click "Edit" button on the screen you want to change.
Click the Type drop down list and select Playlist.
Click the Selected Playlist drop-down and select the playlist you've created. In this case we select "Lobby TV Playlist"
Click Save
The Screen will be updated.
If you want to change the playlist, add, remove Video/Image, change duration, etc.
You can go back to Playlist tab and make the change to the playlist.
The device will update automatically.
You can also start using Apps like Google Slides or set up Schedule for your contents.
If you have feedback on how to make the how-to guides better, please let us know at: support@optisigns.com