With OptiSigns Screen Share App, you can turn any conference room's TV into Digital Signs, and also allow user to present from their laptops to those screens without needs of cables or extra hardware.
Here's high level steps:
Create Screen Share app
Assign it to your screen
Users in the conference room open present.optisigns.com in a browser, enter the 4 digit code on the screens and start presenting.
You can set up your screens to show the full ScreenShare app like this:
Or put the Screen Share app in a bottom strip of a Split Screen like this:
Let's jump in and get started:
1. Create Screen Share app
First, you will need to have your screens set up and paired. For more information on how to do that, click here.
Then log on to our portal: http://app.optisigns.com/
Go to Files/Assets, Click on "App" and add Screen Share to your Account.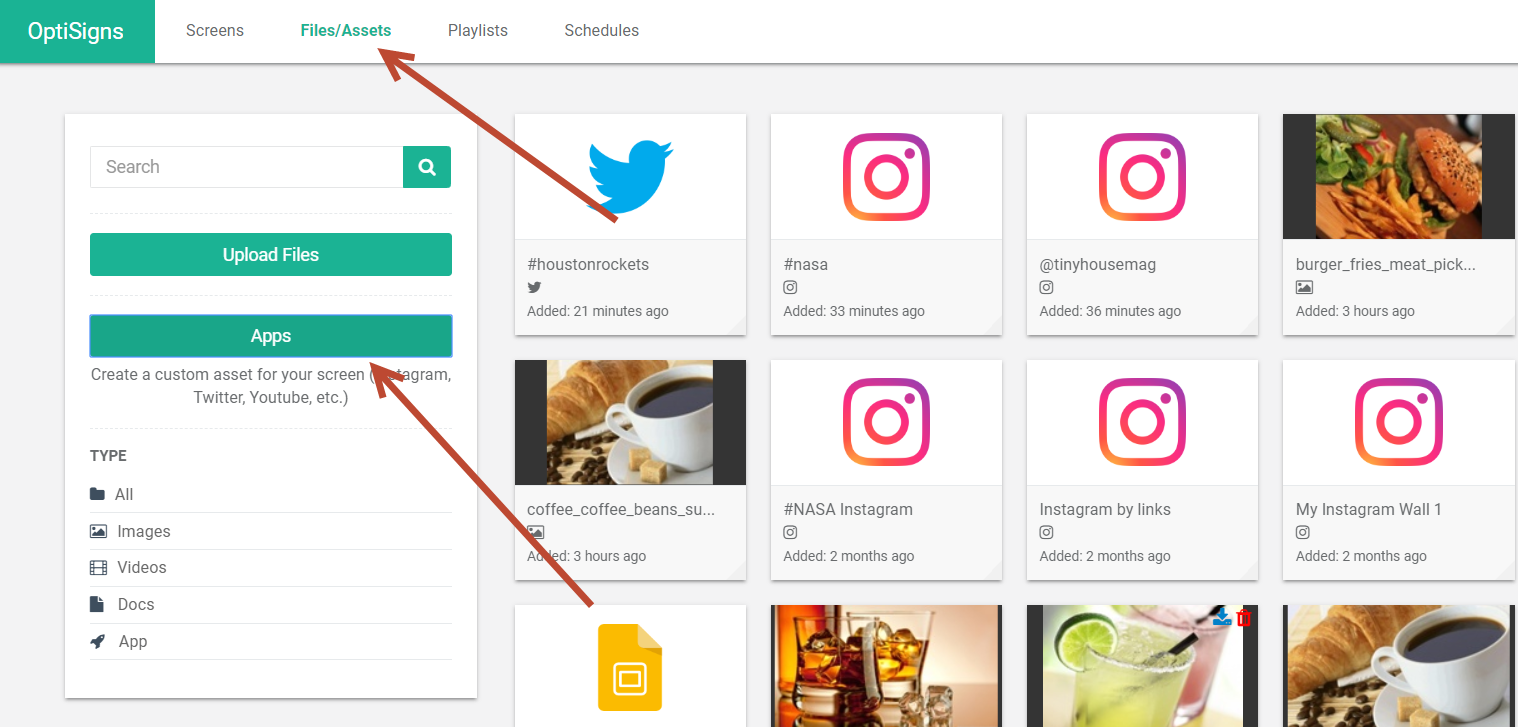 Click Screen Share app:
Enter your Screen Share app information:
Name: Name of your Screen Share app, this is the name of the app in your asset list. It will not be displayed on your screens.
Title: Enter a Title to be displayed on your screen. For example: "Welcome to Conf. Room N719"
Message: Enter a message to be displayed on your screen. Could be some instruction or rules on how to use the room.
Expires in: The 4 digit presenter codes by default is set to expire every 10 minutes. This is for security reason, so someone cannot save the code and use it days, weeks later.

Background Playlist:

by default, the app play a few images in the background beside aesthetic purpose, it could also help prevent your screens from having stuck pixels. You can select your own playlist too if you'd like. Note that only images will be played.

Text Color:

Default is white, you can pick other color if you'd like.
Click Save.
After Saving, you can Preview the wall. It may take several seconds for the app to load.


2. Assign it to your screen
You can assign the Screen Share app directly to a screen by going back to Screens tab, select the screens you want to put it on.
Or you can put the Screen Share asset in a bottom strip of a Split Screen:
3. Present / Share your screen:
When the app run, you will see the 4 digit presenter code on the screen like below:
Full screen mode:

SplitScreen's bottom strip mode:
Users in the conference room just need to open their browser (we recommend Chrome or FireFox for best experience).
Go to
present.optisigns.com
Enter the 4 digit codes
Click Continue
Now presenter is connected to the room, just click Present to start sharing screen.
You can select sharing:
Your entire screen (you will need to select the screen then click share, see 1, 2 in below screenshot)
A certain Application
Or a certain Tab on your Browser
You can stop presenting by click either the "Stop" button or "Stop Sharing" button.
If there are more than 1 presenters, you can share the Presenter Code with your colleague so they can join the room as presenters.
When there are more than 1 presenters, the app will show the list of presenters, and when it's your turn to present, you can stop the current presenters and then share your screen.
That's all! Congratulation!
You have created your Screen Share Wall.
You can change the wall any time by click on it in the Files/Assets tab.
You can assign the newly created wall to your screen by going to Screens, click Edit screens and assign the wall to screens that you want.
You can put the created social walls in a Playlist, Schedule too.
If you are experiencing issue sharing your screen, it's possible that your organization has Firewall that blocking this feature.
You can pass on this information to your network team to whitelist these domain and ports:
global.stun.twilio.com:3478 (UDP)
turn.twilio.com:3478 (UDP)
global.turn.twilio.com:3478 (TCP)
global.turn.twilio.com:443 (TCP)
If you have any additional questions, concerns or any feedback about OptiSigns, feel free to reach out to our support team at support@optisigns.com or just submit a ticket here.